Introducing "Torrey Berry" – One of Many Struggling Subway Musicians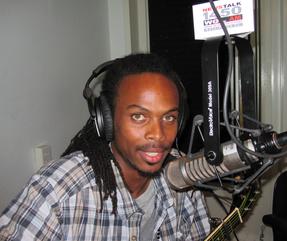 It's late on a Friday afternoon with lots of people rushing around at the beginning of their weekend and I was one of them too … until I heard the delightful sounds of music coming from a singer who caused me to quickly stop and pay attention. This young man – Torrey Berry – was passionately singing to an audience that only heard his raw and magical talents for as long as they were within range to hear his soulful voice.

​After spending a few minutes really enjoying his performance, I walked over to him and asked if he played at any local venues or had been on the radio. Looking at me a little puzzled, Torrey simply said, "No." I then gave him one of my promotional cards for my radio show and also asked if he would like to be on it, which he agreed with understandably a little reservation.

​Shortly thereafter, I asked to record his performance so that I could listen to it later. Torrey agreed to be recorded and began to get excited. He quickly flipped through his music selection to locate the best song to play. Similar to his previous selection, he continued to capture my attention. Then, just before I walked away, I directed him to send me an email before midnight the same day if he wanted to be booked on my show. Happily for me, approximately an hour later, he sent me an email to ask about scheduling. Based on his quick response, I immediately knew that this man was ready to be discovered.
The next time I saw Torrey was four days later upon my arrival to the broadcast studio. Before I arrived or saw Torrey, he had already made a positive impression on the receptionist who said to me upon my arrival, "The musician who is going to be on your show is very good." As I entered the lounge to greet my show's guests, Torrey was surrounded by new fans and was already being booked to showcase his musical talents.

Taking full advantage of this opportunity, Torrey didn't disappoint me once he had his moment to play "live" on his first radio show. Watching him play in-studio made me feel like an excited parent seeing their child open presents on Christmas morning; instead, I was watching a man realize his dreams, which just a few days earlier was only something that he could longingly wish for and wait for this kind of opportunity. Torrey was scheduled to be on-air during the first segment of my show; however, my featured guest – Beth Jannery – was also amazed by his talent — so much that she generously offered a portion of her scheduled time to promote her work to him because she also recognized his enormous talent.

That morning I'm sure that Torrey arrived with a bundle of nerves as he hoped – and maybe prayed – that he wouldn't mess-up this opportunity. Notwithstanding, Torrey left the studio with several potential engagements and a lot more confidence about his talents. It's too often said that someone got "lucky"; although, the thing that's not always taken into consideration or realized is that there are usually many years of preparation that led to someone having a chance to achieve their goal or success. "Luck" – many times – happens at the intersection of preparedness and opportunity.

Torrey's future is yet to be determined, but I know that both of our lives were forever changed. My life was changed because I recognized an incredible talent who desperately sought an opportunity to be discovered. His life changed because someone told him that he was special and gave him a chance to demonstrate it; now, he received his first real moment that could be a significant factor in his future success. My advice to Torrey is to always remember and celebrate any moments of happiness, because these "surreal" moments don't happen that often.

Another amazing thing that occurred on this day was that Torrey received a message on his phone after his first performance, which I noticed caused him to have a visible reaction. After my show, he shared that family members were waiting for him outside of the building. Torrey didn't immediately leave the studio after his appearance on my show to see his family because he was waiting to be scheduled for an upcoming event which showcases local talent. Then, just about the time Torrey and I were about to leave the building, a man appeared at the studio's door who to my surprise was Torrey's stepdad.

​Torrey's stepdad – who lives several states away – surprised Torrey by driving to the studio to be with his son during this moment. This day is one that I'm sure that none of us will soon forget, which I was more than happy to have been a part of its creation. This experience was made even more meaningful for me while Torrey's stepdad described the way he felt while hearing his son on the radio for the first time.

These highly unlikely chain-of-events reminded me of one of my earth angels – Maggie Linton – who gave me my first break on the radio. In a recent conversation in which I thanked her for the very generous support she continues to give to me, she said, "I opened the door, but you had to go stand in it." In continuing to pay it forward, I wrote this excerpt in response to Torrey's Facebook post in which he thanked me for giving him this opportunity: "Once you make it, help someone the same way I did for you. Also, please share Maggie's message with that person, too."

We always have to remember that no matter the things that happen next, the future isn't based on a moment of success or failure, but instead on the purposeful actions that someone takes after any of these occasions. Furthermore, we must always maintain the perspective that life can suddenly and positively change for anyone in just a moment; therefore, be prepared, ready to recognize/seize an opportunity, and always willing to share your gifts/blessings with others.
Torrey Berry sings his original song "Raindance" on-air on "Beyond Just Talk with S. L. Young" on WOL DC 1450 AM in the Washington, DC Metro on 6/30/15.