​​​​​​​​​​​​​​​​​​A Chance Meeting with the Stars of "Ringside" (Tyler Lepley and Jackie Long) Provides Valuable Life Lessons ​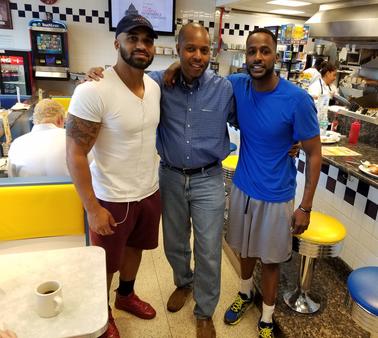 It was another busy morning after a visit to check on my mom. After I drove away, I realized that I was really hungry, but I didn't want to cook breakfast. Therefore, I decided to get something to eat at a local diner, which had two locations nearby. My next decision shouldn't have been that difficult, but for an unknown reason I debated for an extended period about which location I should visit. Then, I surrendered to my internal voice, which directed me to the closest location.

I sat at the counter and immediately acknowledged the man seated next to me. As I turned to watch the news, the other gentleman with him acknowledged me, too. After I placed my order, I noticed that the counter was a little dirty. As a result, I moved to a clean table directly behind the counter. Shortly afterwards, a man arrived to place a carryout order. After he placed his order, he asked one of the men, "Aren't you on 'The Haves and the Have Nots'?" The man immediately smiled and said that he was on the show.

After recognizing that one of these men was a Hollywood star, I immediately asked if he was from the Washington, DC area or if he would be back soon. Unfortunately, he said "no" to both questions. I immediately asked if I could interview him on my radio show "Beyond Just Talk with S. L. Young" and he said "yes." As we continued to talk, Mr. Tyler Lepley and Jackie Long (his dining partner) told me that they were in town for a movie premiere. Then, to my surprise, these men invited me to attend this event. I thought to myself, "Are you kidding me?!" And before I could breathe again, Mr. Lepley said, "Give me your phone number, I'll send you the information." This experience was even more unbelievable because without hesitation Mr. Lepley sent me a message from his phone. This says a lot about this man who moments earlier didn't know me, but trusted me to give me his number.

As Mr. Lepley and Mr. Long were about to leave, I said to them, "I can't believe that you guys are so nice and humble." In response, they collectively said, "We're blessed to have the opportunities we do." Mr. Long then added, "We are just people like anyone else." This was probably an everyday experience for them, but it was important to me because it validated the lessons I teach to my business students that no matter someone's perceived level… treat them with respect.

Before they left, I asked if I could get a couple of pictures with them, which they agreed to do without hesitation. Afterwards, Mr. Long said, "Make sure the pictures are good because once we're done we're out of here." These continuous and generous acts of kindness were unexpected, unbelievable, and won't be forgotten.

The life lessons learned from our unlikely encounter were:

* Listen to your positive internal voice, because if you're repeatedly thinking something… there's probably a reason for it;

* Being friendly doesn't cost anything — and can change or positively impact someone's life;

* Don't be afraid to take a chance to seize an opportunity. If the worst thing that can happen is to be told "no," then go for it;

* No matter your level or status, no one is that important that a moment can't be taken to acknowledge others — especially if you can bring happiness to their day;

* Be humble about the things you've achieved, as many others would love to have your opportunities;

* If you're a positive role model, act like it at all times — even if cameras aren't on you;

* Be thankful for your blessings.

Prior to this chance meeting, I didn't know anything about these men, but I'm now a fan. These are definitely positive role models that should be highlighted more than the celebrities who are blessed but act entitled.

If you have an opportunity to follow their work, please do. Both of them are in the new movie "Ringside", which premiers on TV One on Sunday, September 4th at 7 p.m. EST / 6 p.m. CST. Also, Mr. Lepley can be seen regularly as Benny Young on Tyler Perry's "The Haves and the Have Nots" on the Oprah Winfrey Network (OWN).

​As for the premiere, I didn't go to it due to scheduling challenges… but I will definitely see the movie to support these men who are exemplary role models.