Celebrating 21 Years of the
"UnitedHealthcare US Open Racquetball Championships"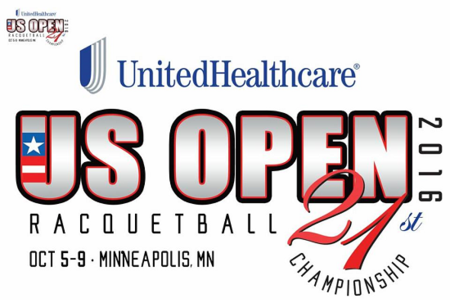 Racquetball's first and legendary grand slam event recently completed its 21st annual tournament, which started based on a dream by 2016 Hall-of-Famer and US Open Director extraordinaire Doug Ganim. In the early 90's, Mr. Ganim – who was already a highly successful promoter of a series of tournaments – knew that racquetball deserved and needed greater exposure. This vision led to the creation of this sport's preeminent event… the "UnitedHealthcare US Open Racquetball Championships," which is held annually in Minneapolis, MN since 2010.
Every year, almost 800 amateur and professional players commit to a week of intense competition to claim the title of U.S. Open champion. Steve Wattz – who has attended this event for 18 of the past 21 years – said, "I love the competition and reconnecting with players from around the world. It's like coming home to family." Stewart Solomon – who attended this year's event for the first time since it relocated from Memphis, TN – said, "The US Open is the mecca of racquetball. It's where the racquetball community goes to celebrate the sport that we all love."
During a condensed week, there are approximately 1,300 matches competed. This tournament requires over 100 volunteers to successfully manage the demanding schedules to keep this tournament operating on-time. One of these volunteers, Tish Rodgers, willingly dedicates over 10 hours during the event to work at the tournament desk. Mrs. Rodgers shared, "I love running the desk because it gives me a chance to meet new people." Without the extreme generosity of Mr. Ganim's dedicated support team and volunteers, the US Open wouldn't be held. The numerous staff and volunteers are integral to keep this tournament operating smoothly, which allows the athletes to focus on their primary goals of being competitors.
Photo Credit: Roby Partovich
At the start of this event, everyone – from amateurs-to-professionals – wants to win their various divisions to claim the title and bragging rights of being a U.S. Open champion. The prestige of winning a U.S. Open title is something that many professionals pursue, but only a few have earned this illustrious title. In this event's 21-year history, there are only 12 unique champions: five men and seven women.
The most notable point is that the US Open is dominated by consecutive streaks that seldom happen in any sport. The first is Paola Longoria – who with her small stature and incredible athleticism – is an incredible foe. Over the past nine years, she's won the Championships seven times. The other is Kane Waselenchuk – a dominant multi-talented powerhouse – who has won this event an amazing 12 times — with nine of these recent wins occurring in consecutive years. These stats demonstrate that racquetball athletes and records transcend the sport itself.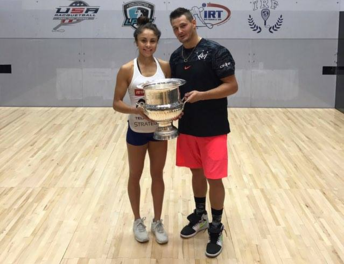 Some incorrectly believe that racquetball is on the decline, but this simply isn't true. According to the Sports & Fitness Industry Association (as posted 9/14/16 on USA Racquetball's Facebook page), racquetball participation rates increased 8.1% from 2014 to 2015. These increases aren't surprising since according to Health Fitness Revolution, racquetball helps to burn calories and fat; strengthen bones and muscles; improves balance, coordination, and flexibility; works the entire body; and much more.
If you're not already a fan of racquetball, then you should become one! If you haven't played in a while, give it another try. This isn't the same game that it was in the 80's. No other sport has a ball that travels in excess of 160 miles per hour. This experience is even more incredible since these intense battles occur at lightning speeds within mere inches of the players on a 40 x 20 x 20 court. At the highest levels of racquetball, the speed of the ball, the agility needed to react quickly, and the split-second decision-making required to be competitive are akin to playing tennis after having consumed extra doses of caffeine!
This year's competition is over, but there's plenty of time to get prepared, in-shape, and ready to battle at next year's "UnitedHealthcare US Open Racquetball Championships," which will be held October 4 – 8, 2017. If you need to locate a place to play, please contact your state's association to locate racquetball clubs and facilities in your area.
Remember… as USA Racquetball's logo declares, racquetball is "Fast, Fun, Fitness!"
​Obtain additional information about the "UnitedHealthcare US Open Racquetball Championships" at: www.unitedhealthcareusopen.com.